Curry Stool
From TrigpointingUK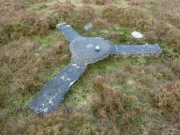 A curry stool is a type of survey mark used in peaty areas where a pillar would sink and natural rock was not available. The concrete, in the form of three arms meeting at a central point, sits on the peat and it was hoped to be a stable platform. It is contended that they were named after Corporal Curry of the Royal Engineers.[1], however, the Yahoo post in the reference below is no longer availabel to view.
In the book 'Ordnance Survey: Map Makers to Britain since 1791', it states on page 120 that the curry stool was designed by a surveyor, Mr Ernie Curry. Further, the 'stool' does not sit on top the peat. Three poles were driven into the peat at an angle, 120degrees apart, until they hit firm ground, sometimes nearly 20 feet down, their protruding tops were were covered and bound by a collar of concrete.
The following Curry Stools are listed by the OS:
A list and a photo album of curry stools are available from T:UK.
References
↑ Richard Short via Jon Rouse - Trigonomy post https://groups.yahoo.com/neo/groups/trigonomy/conversations/messages/1806