Other
From TrigpointingUK
Brass Plate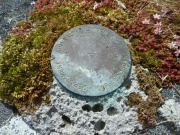 Installed by HMS survey ships mainly around the coast of Scotland, predominantly the Western Isles, with 5 recorded in the SW of England (including 2 in the Isles of Scilly) and 2 on the South Wales coast. Their known number is gradually increasing as more are found. As at Sep 2022 there are 33 listed in TP:UK, one of those was discovered earlier in 2022 on the Isles of Scilly.
Pipe
Approx 1" diameter pipe set upright and mortared into rock, protruding sub 1". There are 23 listed in TP:UK, all but 1 in Scotland.
Gigha (3)
Islay (12)
Jura (5)
Kintyre Peninsula (1)
Lewis and Harris (1)
Gugh, Isles of Scilly (1)
Pre 2022 there had been only 1 possible finding recorded in T:UK, subsequently confirmed, Meall Ard on Islay. During 2022 a further 3 were found on Islay, and 1 on the Isles of Scilly.
Other
The TrigpointingUK database contains a few artefacts which are not actual survey marks, but which are interesting nonetheless, Robs Pillar is one such item. There are also some genuine OS trigpoints that do not fit into any of the standard categories and are termed 'Other', there are 58 of these listed in TP:UK including Pegs, Posts, Punches, Holes and Topographs amongst others.