Brass Plate
From TrigpointingUK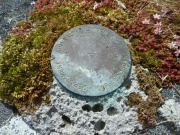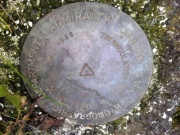 A Brass Plate is a ground station triangulation mark.
Installed by HMS survey ships mainly around the coast of Scotland, predominantly the Western Isles, with 5 recorded in the SW of England (including 2 in the Isles of Scilly) and 2 on the South Wales coast. Their known number is gradually increasing as more are found.
The inscription on the plate has minor variations. A typical example, with a central triangulation symbol, is:
HYDROGRAPHIC DEPARTMENT ADMIRALTY LONDON SW1
TRIANGULATION STATION H.M.S.COOK 1952

As at Sep 2022 there are 35 instances of a station with a type of Brass Plate listed in TP:UK. 33 of these have a historic use of Hydrographic Survey Station. The two exceptions are both roof stations on colliery headgear (1 unknown and the other, described as an NCB metal plate, destroyed). One Hydrographic Station was discovered in 2022 on the Isles of Scilly.