Covered Bolts
From TrigpointingUK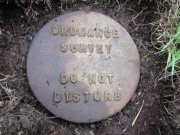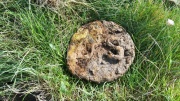 Lake District
A very small number of bolts have been found covered with a metal plate approx 12" square with the warning sign 'ORDNANCE / SURVEY / DO NOT / DISTURB' embossed on a raised circular disc at centre of the plate. To date (August 2023) all of these have been located within the southern portion of the Lake District National Park.
'Covered Bolt' is a trig baggers term; the corresponding OS term for the cover is 'Detector Plate'. This is mentioned, for example, in the Office File sketches for Ponsonby Fell and Kentmere Hall. In T:UK and OSGB36 the trig mark itself is listed as either a Bolt or Buried Block. As with Concrete Rings, the purpose of the cover is to aid in the detection of the trig when using a metal detector.
Trig Stations where a Covered Bolt is suspected but not confirmed

| T:UK | Station name | Order | Computed | Block | Notes |
| --- | --- | --- | --- | --- | --- |
| | | | | | |
Others
A single instance of a cover with a different style has been found at Fochno in Dyfed. This in turn resembles the passive station sketch for Pegler's Tump. An unmarked iron plate covers the bolt at Therfield Heath.