Pillar
From TrigpointingUK
There are a number of different types of triangulation pillar used by the Ordnance Survey, with some notable irregularities. The three main types are noted below, in order of prevalence:
Hotine Pillar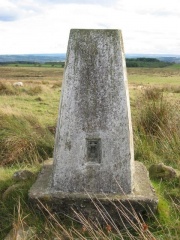 The iconic triangulation pillar is commonly referred to as a Hotine pillar. It was designed by Brigadier Martin Hotine, [1] described as "the formidable Director of Military Survey, Brigadier Martin Hotine, whose penetrating intellect did not prevent him from adopting a directness of speech and writing which sometimes could only very charitably be described as brusque" [2].
Notable features on Hotine pillars are the Flush Bracket, Spider, Plug, Upper centre mark and Sighting Tubes. See the anatomy of a trigpoint for further details.
Mass production of these pillars commenced late in 1935. Only two minor modifications were made to Hotine's original design. Between 1947 and 1950 a small change to the centre cap's Allen screws was made in an attempt to make it harder to remove or tamper with.[3] In addition, all pillars built after 1950 used a cardboard tube instead of a metal centre pipe, cutting down on labour costs and reducing the amount of material needed.[4]
The weight of a standard pillar has been stated as 14 cwt (711kg), see Vanessa Pillar below. However, the very same page in the same reference also states '... a standard pillar with a 3-foot base requires about 2 tons of materials'. Further, John Davies' "Primary Trigs in Wales" gives quantities of materials required to construct 29 of the 33 pilars. The average being 37.3cwt (1900kg), with the most common quantities (for 12 of the pillars) being 10cwt (508kg) sand, 25cwt (1270kg) gravel and 7cwt (355kg) cement.
With the exception of the Isle of Man, the mass production program of these pillars was completed during 1960. Since then there have been occasions where pillars have been built for specific reasons. A few station sites have been required to be relocated, some pillars have been damaged and needed to be rebuilt, and special developments or surveys may have required new pillar stations nearby.
Vanessa Pillar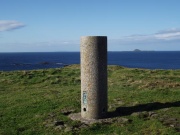 At a late stage, around 1958, the secondary triangulation had progressed to the Highlands of Scotland, it was necessary to design a new and lighter pillar, cylindrical in shape, in order to avoid excessive transport costs.[5] These round pillars, usually called 'Vanessas', or sometimes 'Branders' or 'Kelsey Columns'[Citation needed], were considered "less aesthetically satisfying" than the standard pillar, so they were only placed in inaccessible locations to "reduce the risk of criticism from the more sensitive element of the population to an acceptable level." [6] Vanessa pillars weigh around 6½ cwt (330kg), less than half of a typical Hotine pillar (14 cwt, or 711kg), [7] [but see Hotine Pillar above] and did not require such a large foundation, making them ideal for the rocky outcrops of the Scottish Highlands.
'Vanessas' are so-called because of a mispronounciation of 'Venesta', the name of the company which produced the tubes which the concrete was poured into. 'Kelsey' was the officer who commissioned the design of these pillars.
Stonebuilt Pillar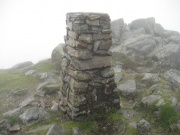 Stonebuilt pillars, often found on more inaccessible locations, were constructed using whatever materials were to hand, obviating the need to carry too much heavy concrete mixture to the top of the hill, or so constructed to fit in better aesthetically in certain locations. Pillars were occasionally built out of local stone at the landowner's request, "in order to avoid attracting pilgrimages of hikers". [8]
See also
Garden trig pillars - A list of pillars which have were either originally built in a garden, or have ended up there over the years.
Crested trig pillars - A list of pillars built by the Royal Engineers Survey Cadre between October 1943 and early 1944.
References