Project Emily
From TrigpointingUK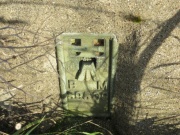 Project Emily was the deployment of American-built PGM-17 Thor intermediate-range ballistic missiles in the United Kingdom between 1959 and 1963 [1]. As part of this, the MOD installed around 40 Hotine pillars around the missile bases. Standard flush brackets were used, but either the number or the "OS" were often ground off, as they are not part of the OS network. Fewer than a quarter of the original pillars still exist.
There are many other hotine pillars in existence that were erected either by the OS or with their blessing. Two such are located within 150m of each other, now within the grounds of Charente Hall, Berkshire: Tory Hall Farm (FB 10678) and Winkfield (FB 10679). The FB numbers date them to the 1960's although they may have been installed later if the flush brackets were drawn from OS stores. They appear to have been incorporated into secondary block TQ08, but are clearly additions as TQ08 was surveyed in 1948. They do not appear to have been levelled. Early logs suggest "related to a Minitrack Satellite Tracking Station, part of NASA's STADAN [Spacecraft Tracking and Data Acquisition Network] network", which is most plausible. These pillars then are in a similar category to the Great Glen and Emily pillars, except that they qualify as OSGB36 pillars having been designated as such within Block TQ08. Order unknown but possibly surveyed to Fourth Order standards.
Original OS archive research conducted by Rod Sladen, further information by Graeme Paterson.