Cannon
From TrigpointingUK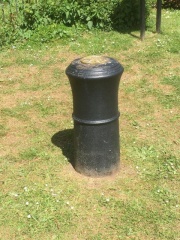 In 1784, Major-General William Roy undertook the measurement of a triangulation base on Hounslow Heath. The work was carried out with glass tubes approximately 18 feet in length [1]
This was followed, in 1794, by the measurement of a base on Salisbury Plain, this time using steel chains [2]
The ends of these base lines were marked by cannons.
These cannons are not recorded in OSGB36 but are of historical importance.
The four trig stations in T:UK corresponding to these are:
Three of the cannons are easily accessible, with the Salisbury Plain Baseline North marked on T:UK as 'inaccessible'. It is co-located with the Beacon Hill trig pillar and is assumed to be buried.
The Hounslow Heath NW cannon has been moved a short distance to accommodate Heathrow Airport boundary fencing. In 1944, work on the runways of the future Heathrow Airport resulted in one of the terminals of the Hounslow Heath base having to be removed. This terminal, a 32-pounder cannon, had been emplaced there in 1791, when the base was remeasured. Ordnance Survey was pleased to receive it back and, to give a historical dimension to the drab and utilitarian new offices, it was mounted with due care on a plinth in front of the Chessington headquarters. Here it remained as a kind of talisman until the new headquarters were built at Southampton. In 1972, the cannon was restored to its original position at Heathrow [3].
References