Cannon
From TrigpointingUK
Cannon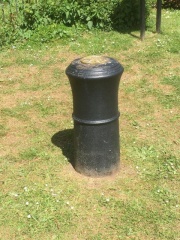 In 1784, Major-General William Roy undertook the measurement of a triangulation base on Hounslow Heath. The work was carried out with glass tubes approximately 18 feet in length [1]. This was followed, in 1794, by the measurement of a base on Salisbury Plain, this time using steel chains [2]. The ends of these base lines were marked by cannons.
These cannons are not recorded in OSGB36 but are of historical importance.
The four trig stations in TP:UK corresponding to these are:
Three of the cannons are easily accessible, with the Salisbury Plain Baseline North marked on T:UK as 'inaccessible'. It is co-located with the Beacon Hill trig pillar and is assumed to be buried. The Hounslow Heath NW cannon has been moved a short distance to accommodate Heathrow Airport boundary fencing.
References
↑

The History of the Retriangulation of Great Britain, Section 1.02

↑

The History of the Retriangulation of Great Britain, Section 4.00