Topograph
From TrigpointingUK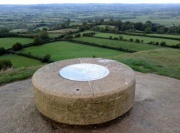 Three topographs are listed in T:UK. These are:
The Tor Hill Topograph may be a replacement for the nearby trig pillar which was recorded as destoyed in 1987. The station also includes an 'Old trig' (likely to be a buried block).
Elsewhere, trig pillars have been adapted for use as a topograph. For example, Beacon Fell where a circular plate covers the top.
Hindhead is similarly a hybrid trig pillar/topgraph.
In the case of Brown Clee Hill, the pillar was demolished in 2006 and replaced by a topgraph.